Restoration 
There is no better time than the present to help stop the loss of coastal wetland forests. These forests serve as a natural sponge to absorb storm water run-off, provide a wind buffer to protect our homes and businesses, and serve as a habitat corridor for resident wildlife and migratory birds. It is important that we preserve and protect our remaining forested wetland for future generations.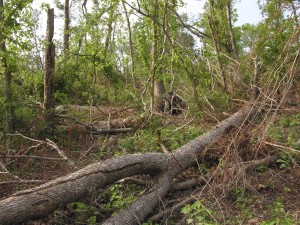 Please consider helping Woodlands Conservancy in our important mission of protecting our environment by contributing to our Conservation and Habitat Fund.

BACKGROUND:
Prior to Hurricane Katrina and Rita, three woody, non-native invasive species from Asia, Chinese Tallow, Chinese Privet and Chinaberry were concentrated along stand edges and along canopy openings associated with trails at Woodlands Trail and Park. These invasive species were originally introduced into the Gulf Coast area several decades ago. Volunteers worked diligently to hand remove smaller invaders.
Following Hurricane Katrina and Rita's damage to 80 – 90% of the forest canopy, the invasive species have expanded exponentially. Without aggressive eradication measures, we face a high likelihood that these invaders will continue to penetrate further into the forest and within a decade may dominate the entirety of the forest. Such an invader-dominated forest would have vastly reduced storm buffering and hydrological entrainment functions relative to the pre-Katrina  forest and would provide reduced quality habitat for migratory birds and other wildlife.

In 2007, Woodlands Conservancy, in partnership with California State University Channel Islands and Oregon State University, initiated systematic assessment, treatment and post-treatment methodology to remove invasive species and reforest with tree species to restore native habitat (see below). They have since been joined in their efforts to study and remove invasives by professors and students from Tulane and UNO.

In 2009 Woodlands Conservancy began actively treating for invasive species and replanting with native plants. Efforts to intensify invasive removal have been intensified in the past 5 years and we are moving into a replanting phase across ~65 acres of habitat.
In 2013 Woodlands began working with local K-12 students and the Brown Foundation to do a service learning program called Seeds to Saplings.  Students have assisted in planting some of the 14,000+ saplings involved in restoring the forest. 
In 2016 Woodlands received grants from the Barrataria Terrebonne National Estuary Foundation and the NOLA Tree Project for the purchase of several hundred native trees and understory shrubs. These plants will go a long way towards filling gaps where invasives have been removed and restoring the quality of the forest habitat.

In 2017 and 2018 efforts to restore the forest with native seedlings has continued in addition to the ongoing tracking of progress through vegetation assessments and monthly bird banding.
ONGOING EFFORTS:

To date, over 500 acres comprising four treatment plots have been treated on one to five occasions to restore sections of the forest.  We have begun to reforest treated plots with over 14,000 native seedlings and trees.  Camera data already shows increased wildlife in restored areas.
In Dec- March of 2018, we will be planting several hundred native trees and shrubs across parts of Woodlands Trail and Delacroix Preserve as part of our continuing reforestation efforts.  If you are interested in volunteering to help plant trees see our volunteer page!
CSUCI & OSU CONDUCT VEGETATION SURVEYS

2017 marked the eleventh consecutive year that California State University Channel Islands & Oregon State University came to New Orleans to work with Woodlands Conservancy.  The group conducts annual assessments of native and non-native vegetation at Woodlands Trail and Delacroix Preserve to evaluate restoration work conducted to improve the habitat for wildlife and migratory birds.   Students from CSUCI with a firm background in environmental science work side by side with OSU Horticulture students to record data on the frequency and density of native and non-native vegetation on both areas treated for removal as well as areas that have not been treated.