DECEMBER 2016
SCREENS FOR GOOD PARTNERS TO SAVE OUR SPONGE

NOVEMBER 2016
NOVEMBER NATURE HIKES
PLANT WORKSHOP WITH DR. CHARLES ALLEN
OCTOBER 2016
OCTOBER OWL PROWL
SEPTEMBER 2016
FOREST FEST – A DAY FOR FRIEND, FAMILY AND FUN
Thank you to the close to 200 people who came out for first Forest Fest held at Woodlands Trail on Saturday, September 24.  Below are some photos of the many events.
REPRESENTATIVES FROM PHILLIPS 66 JOIN DIRECTOR KATIE BRASTED ON STAGE TO PRESENT A GENEROUS GRANT TO FUND OUR NEW RESTROOM BUILDING.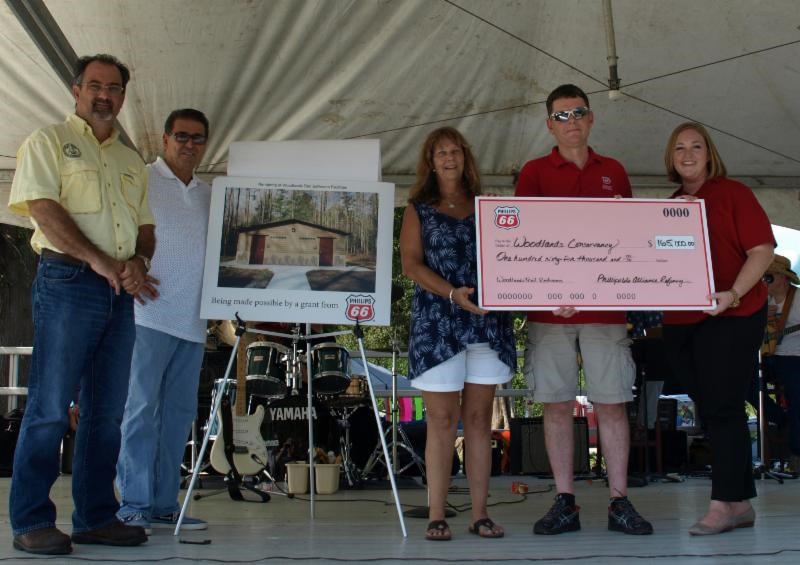 AUGUST 2016
ZTCC CAMPERS PLANT TREES
The Zion Travelers Cooperative Center's Summer Enrichment Program, "Connecting Our Children to the Environment", participated in a 7-week service learning project with Woodlands Conservancy. The program included hands-on learning activities that focus on the surrounding watershed and learning about impacts to the environment from hurricanes, invasive species and human behavior and what they can do to make a difference in their community.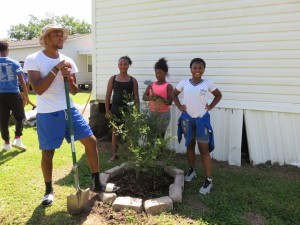 On Wednesday, August 3, the two organizations celebrated the culmination of their summer partnership with the installation of identification signs beside each of the trees and plants that were planted around the Zion Travelers Cooperative Center. Campers were especially excited to learn that these trees would provide much needed shade in the ZTCC yard. Following the installation, summer campers received a certificate of participation from Woodlands Conservancy and enjoyed a picnic lunch. Rev. Michael Jiles, attending the end of summer event to represent the Plaquemines Parish Administration, praised the work of the two organizations and expressed his "pride in the summer campers' work that is not only leaving a lasting gift to be enjoyed by future campers at ZTCC but is improving the environment for the entire community".
MARCH 2016
PHILLIPS 66 EMPLOYEE TURNS VOLUNTEER HOURS INTO GRANT FUNDING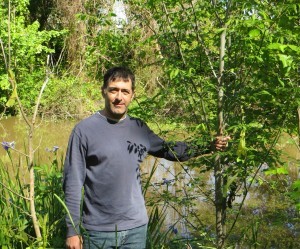 Stephen Fedele, a Phillips 66 employee, has been volunteering at Woodlands Trail since 2010 when he first contacted the organization about planting a cypress tree that he had dug up when it became too large for its location in his yard. Since then, Stephen has continued to call on a regular basis for the past five years to inquire about needed work that he could do at Woodlands Trail on his days off.  Although he is a regular at Woodlands Trail, Stephen also volunteered at Woodlands Conservancy's Delacroix Preserve during the Bud Light and Keep Louisiana Beautiful sponsored "Do Good.  Have Fun" event that involved a major group clean-up.
Last year Stephen shared his excitement about finding out about the Phillips 66's Volunteer Grants program that would allow him to turn his volunteer hours into cash for Woodlands Conservancy.  Stephen planted trees, picked up trash, weeded around the entrance sign and a variety of other tasks as the need arose.  Stephen began keeping track of his hours, logging them in with Phillips 66 and recently reached the required 20 hours that resulted in a $500 grant to Woodlands Conservancy.  "At Phillips 66's Alliance Refinery, we're proud to support volunteer initiatives in our local community," said Shannon Vogt, Sr. Advisor, Public Affairs, "and especially of employees like Stephen who volunteer their own time to improve our environment."
PLAQUEMINES PARISH STUDENTS HELP RESTORE THE FOREST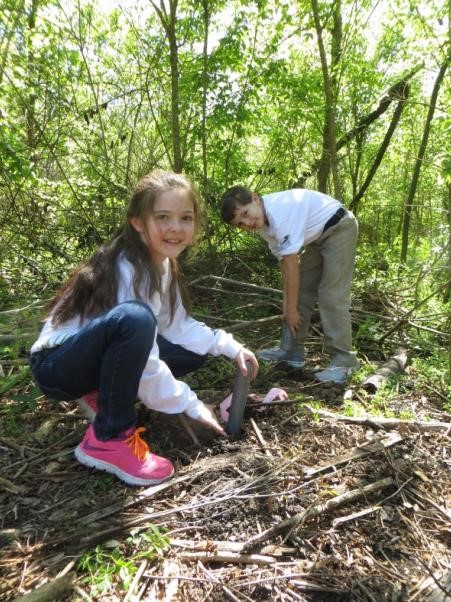 Thanks to the generosity of Chevron Oronite and The Brown Foundation's Service Learning Program, Woodlands Conservancy was able to expand the "Seeds to Saplings" program to six classrooms in Plaquemines Parish schools during the 2015-2016 school year. The program involves seven service learning lesson plans spread over the school year. The lessons include fourth grade benchmarks in Science, English, Language Arts and Social Studies. Woodlands Conservancy work with the fourth grade classes of Mary Beth Newchurch, Lisa Rodriguez, Melissa Andrews and Erin Cossé at Belle Chasse Primary and Liz Tadlock and Rebecca Barnard at Phoenix School.
This was the first year that Erin Cossé's Science class participated in the Seeds to Sapling project that she described as giving her students "an opportunity to give back to the community. Fourth graders learn about how an ecosystem must stay balanced for all living things to survive. Going to Woodland Trails was a great hands-on experience. They learned how an invasive species has affected this ecosystem and how we can help protect this ecosystem and the living organisms that live there by planting native trees. Seeing my students so involved in this program and connecting what they have learned in class to a real world problem was one of my favorite and most memorable moments as a teacher."
Lisa Rodriguez noted that in addition to the value of the experience to her as a science teacher, the students "are able to get a taste of how to involve local officials that can help our environment by writing letters to them and inviting them to a planting ceremony. Once there, students can talk to them about what they've learned will help, and what hurts our environment." The students saw the direct effect of their efforts to engage their local elected officials as President Amos Cormier, Councilman Beau Black, Councilman Irvin Juneau and Councilman Benny Rousselle attended the planting event making an extra effort to speak directly to students who had sent an invitation to them.
"Once the students are aware of what is happening around them, they can become those citizens that do something and make a difference. The students become the next generation helping preserve our environment. It is a learning opportunity that truly educates our students for the future" said Mrs. Rodriguez.
"The Woodlands Conservancy's Seeds to Saplings project provides Plaquemines Parish students with a fun and interactive way to learn about the environment," said Greg Abdelnoor, Finance Manager at Chevron Oronite's Oak Point Plant. "Introducing students to projects like this at early age can help foster an interest in science, as well as technology, engineering and math, which can lead to good paying jobs and a rewarding career."
Due to inclement weather on the date scheduled for the Phoenix classrooms to do their planting, the service learning project was rescheduled from March to May. The students from Phoenix visited the Port Nickel site where they learned about native plants and animals commonly seen there. The Port Nickel site has ongoing restoration activities and is certified by the Wildlife Habitat Council. After a guided hike and lunch provided by Freeport McMoRan, the students planted Willow Oak trees provided by Woodlands Conservancy.
CSUCI – 10TH ANNUAL YEAR AT WOODLANDS TRAIL SITE
When most college students were preparing for sunny days on the beach for their spring break, twenty Students and Faculty from CSU Channel Islands, Oregon State, & UCLA prepared for their ten day trip to the Greater New Orleans area to immerse themselves in the local culture and participate in hands-on projects throughout the region. The annual ten day trip includes the students and professors spending several days at Woodlands Trail and Delacroix Preserve to conduct field assessments of native and non-native vegetation that exists in standard assessment plots. The information is shared with Woodlands Conservancy that uses the annual data to evaluate treatment methods to remove non-native vegetation, make adaptive management decisions and seek funding to conduct further restoration work. During the 2016 trip, abundant and frequent rains restricted the amount of time the assessment team was able to spend in the field and thus they were unable to conduct the sampling at Delacroix Preserve. When the students are not involved in service learning projects such as those for Woodlands Conservancy or building community gardens in lower Plaquemines Parish, they spend their time learning about the local culture by visiting jazz clubs, eating local food, attending cooking classes to learn to make gumbo, meeting with various organizational leaders to learn about the function of levees and other topics that help them get a broad view of the local area.
BELLE CHASSE PRIMARY STUDENTS PLANT SEEDLINGS AT WOODLANDS TRAIL
Thanks to a grant from Chevron Oronite and The Brown Foundation to Woodlands Conservancy, fourth graders discovered the value of protecting and preserving their environment through planting trees. Not just any trees though! They have learned that many invasive species have grown in the place where our native plants should be. The invasive trees grow quicker and shadow the trees that should rightly be there. Also, the native trees have the highest nutritional value for the woodland creatures that live there. On Wednesday, March 23 and Thursday, March 24, fourth graders with a little help from their teachers and families, planted about 400 trees that we hope will live and thrive over the next few decades. Parish officials were invited to see that even the youngest in our community can make a difference and can sometimes remind grown-ups of what is important. It was a great learning opportunity and one the students won't soon forget.
NOVEMBER 2015
WOODLANDS CONSERVANCY WILD WINE DINNER
The third annual Woodlands Wild Wine Dinner was held at English Turn Golf and Country Club on Saturday November 14, 2015. The Patron Party was sponsored by Republic National Distributing Company through a wonder donation of wine originating from the Napa Valley and Central Coast regions of California. The evening was made possible because of the generous sponsorships from Power Systems Specialists, Inc., Chevron Oronite, Online Optimism, Dr. James A. Crouch, David and Maurer Culpepper, and Carl and Katie Rosenblum. The Wild Wine Dinner was a grand success as the Woodlands Conservancy team was able to raise over $15,000 through the help of donations to the silent auction.
SEPTEMBER 2015
NATIONAL PUBLIC LANDS DAY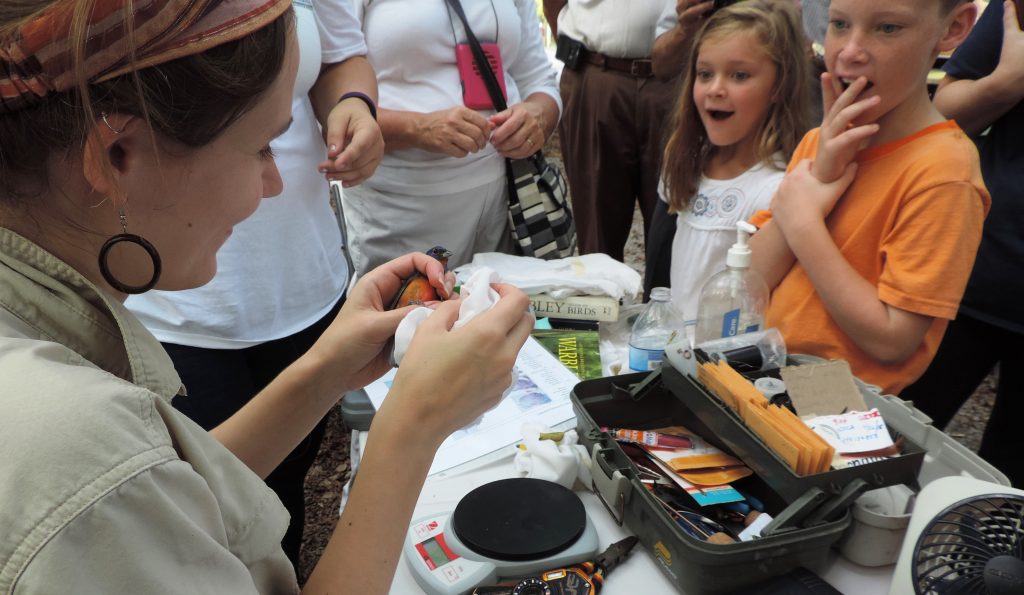 On Saturday, September 26, visitors gathered at Woodlands Trail to celebrate the annual National Public Lands Day, a day set aside to encourage visits to public lands to help improve the site, hike, explore, picnic or simply relax.  Guests explored the diversity of native wildlife with biologist Deb Visco, who led a special bird banding demonstration, and followed Woodlands Conservancy Executive Director Katie Brasted on an interpretive hike.
AUGUST 2015
FOREST RECOVERY – 10 YEARS POST KATRINA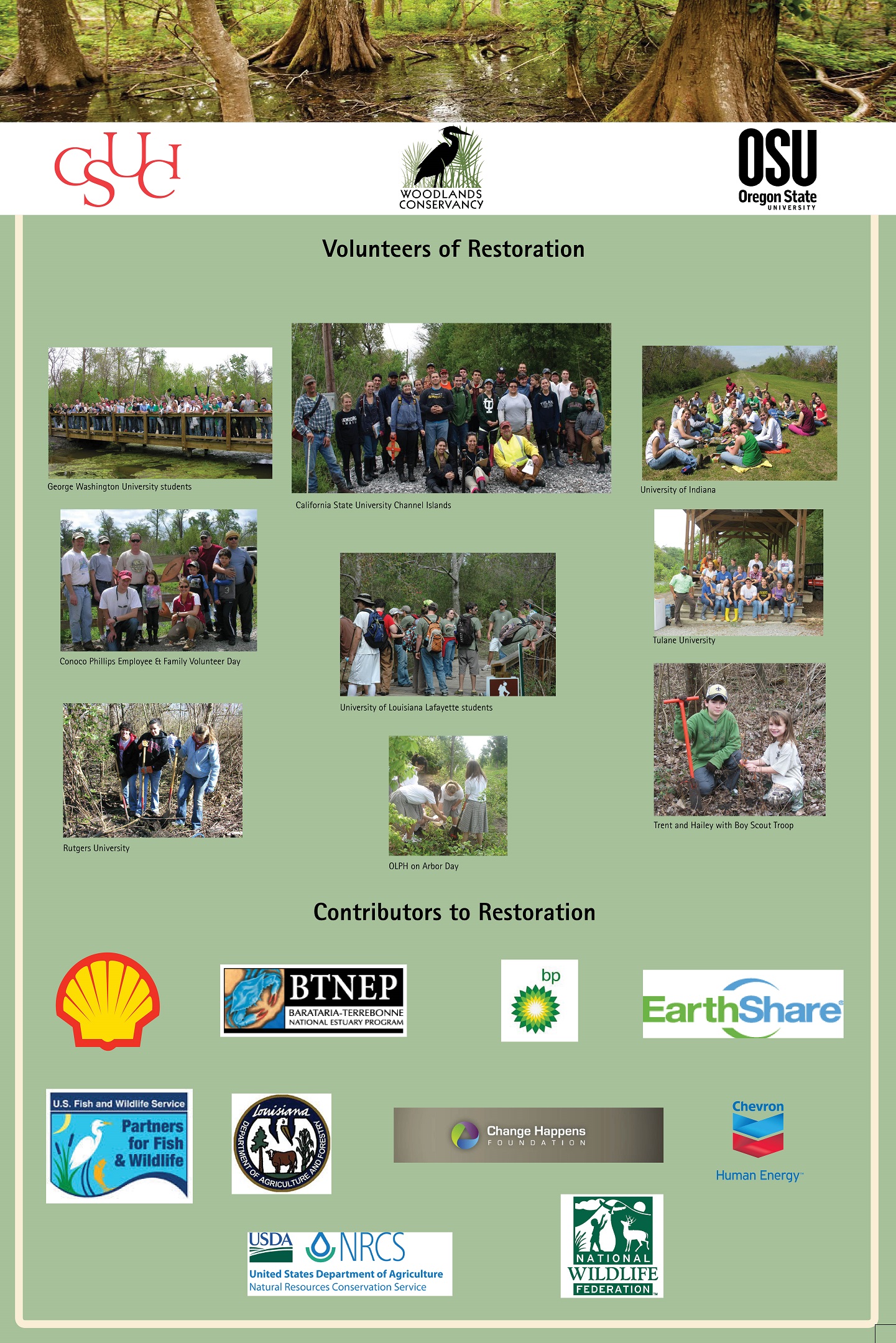 Gathered at the Woodlands Trail Daybrook Pavilion on Saturday, August 15, Dr. Sean Anderson, Associate Professor, Environmental Science and Resource Management, California State University Channel Islands and Katie Brasted, Executive Director of Woodlands Conservancy, gave an overview of the restoration work resulting  from the two organizations partnerships over the past decade.  The presentation included an overview of the forests' condition prior to Hurricane Katrina and the core reasons for removing non-native invasive vegetation and reforesting to aide the recovery of the forests canopy. The restored forest will provide habitat for wildlife and migratory birds while improving the hurricane protection qualities of one of the largest forested storm buffers between open water and the city of New Orleans.
MAY 2015
FORESTED WETLANDS AT RISK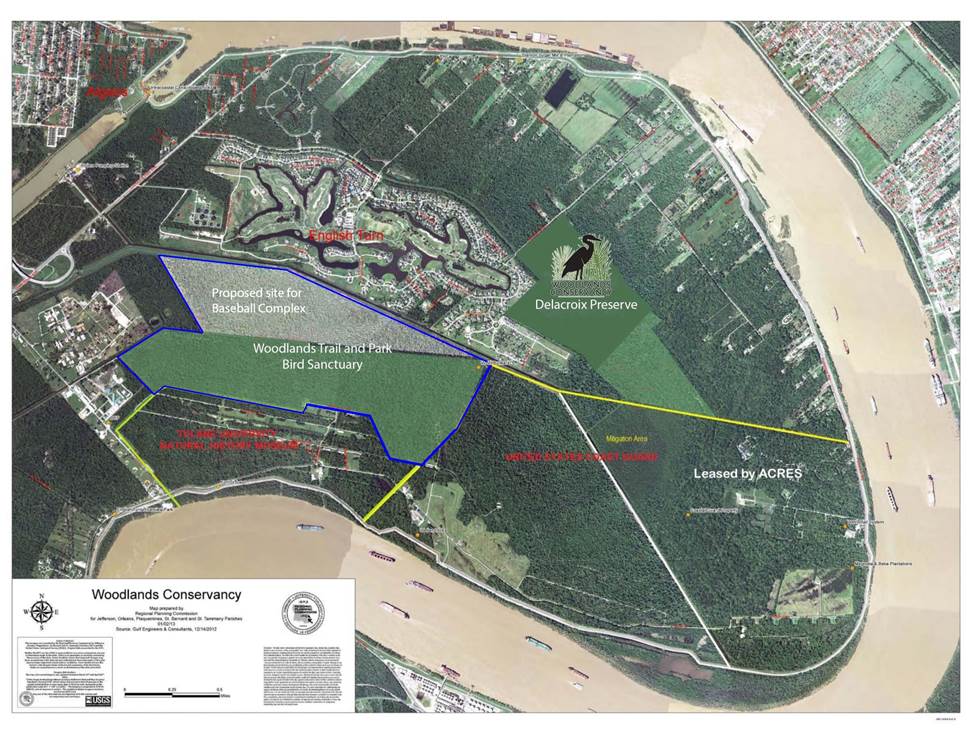 On May 28, 2015, the Plaquemines Parish Council passed a resolution supporting the sale or lease of 250 acres of forested property (on which Woodlands Trail and Park currently exists) for Champions Park Baseball Complex.
To voice your opinion on Woodlands Conservancy and Greenspace vs. a $22 million dollar for profit Baseball Complex in THIS location, please send your comments to: the Plaquemines Parish Councilman in your district Benny Rousselle, Council Chairman & Amos Cormier, Plaquemines Parish President:
District 1 jbarthelemy@ppgov.net
District 2 wblack@ppgov.net
District 3 klepine@ppgov.net
District 4 ijuneau@ppgov.net
District 6 cburt@ppgov.net
District 7 asalvant@ppgov.net
District 8 jedgecombe@ppgov.net
District 9 nwilliams@ppgov.net
District 5 & Council Chairman brousselle@ppgov.net
Plaquemines Parish President acormier@ppgov.net
CHEVRON VOLUNTEER WORK DAY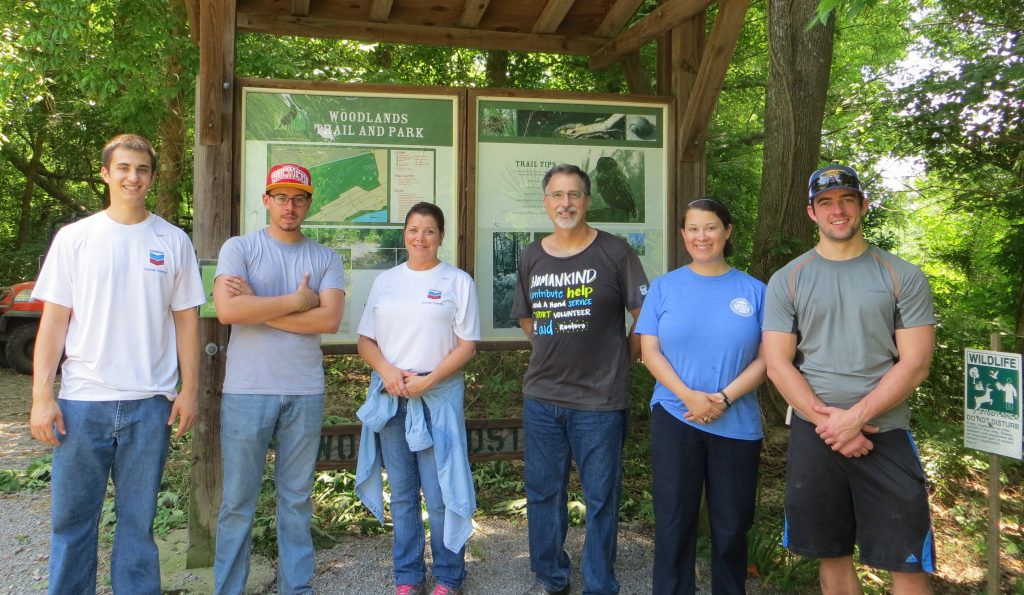 Chevron Oronite employees spent Friday, May 8th from 8 a.m. until Noon volunteering to do trail clearing and maintenance activities to improve the public nature experience at Woodlands Trail. The volunteers cleared fallen limbs and trees along the Upland Trail and pathways leading to areas along the trail where Woodlands Conservancy conducts Birding research on a monthly basis. Chevron's Humankind program allows employees to submit 20 hours of volunteer service for a single nonprofit and request a grant for $500.
MARCH 2015
SEEDS TO SAPLINGS–TREE PLANTING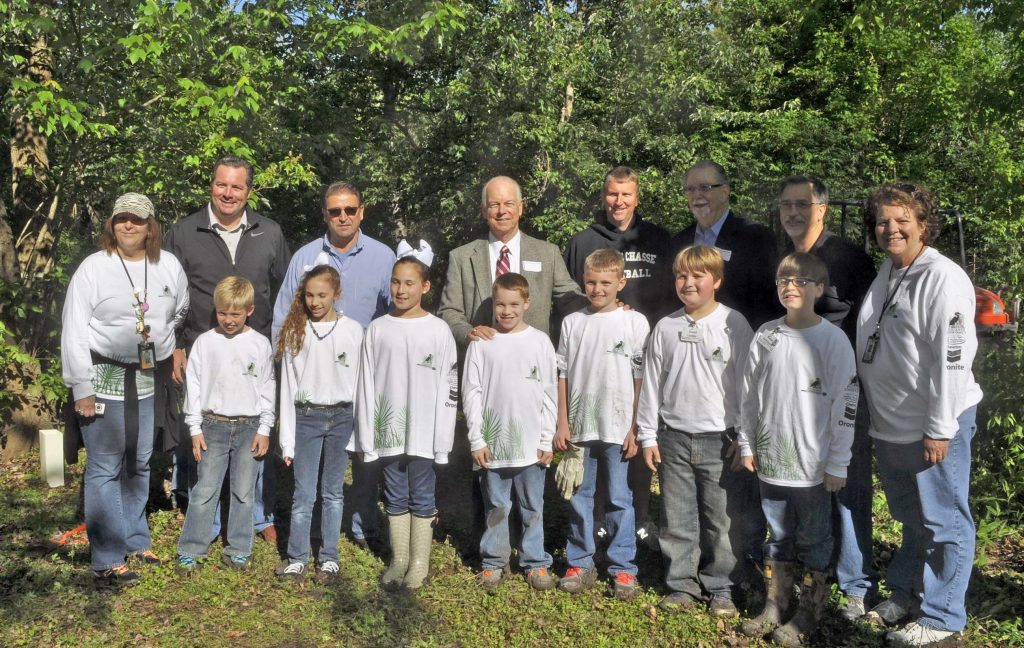 4th grade students from Mary Beth Newchurch's Language & Social Studies class and Lisa Rodriguez's Science class at Belle Chasse Primary School planted milkweed and seedlings at Woodlands Trail on Friday, March 27.  The students have been caring for the plants as part of a Seeds to Saplings service learning project that  was designed by Woodlands Conservancy and
funded by grants from the Brown Foundation and Chevron Oronite.   As part of the Social Studies elements, the students invited their parents and local elected officials to attend the event.  Their effectiveness of their effort was rewarded by the attendance of several parents and  local elected officials including President Amos Cormier, Council Chairman Benny Rousselle, Councilman Beau Black and Councilman Irvin Juneau.
INTERPRETIVE HIKE WITH DR. BOB THOMAS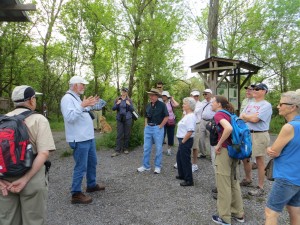 On Saturday, March 21, 2015, Dr. Bob Thomas led an interpretive hike at Woodlands Trail and park. Dr. Thomas is the director of the Center for Environmental Communication at Loyola.  The hike covered a description of what is becoming a fading habitat for wildlife and migratory birds. The hike provided those in attendance with information on what to expect to see in a healthy bottomland hardwood forest, characteristics of a forest in transition as it recovers from hurricane damages and unique stories about the evolution and adaption of plants and trees over centuries. The Interpretive Hike was made possible by a grant from the National Environmental Education Foundation through funding provided by Toyota Motor Sales.  Free educational materials were provided by the Barataria-Terrebonne National Estuary Program.
NATURE PHOTOGRAPHY CLASS
On Saturday, March 7, 2015, Woodlands Conservancy hosted a Nature Photography Class led by Ken Redler at Woodlands Trail and Park. The class was free and open to photographers of all skill levels. Mr. Redler covered the basics of capturing great images, and topics including equipment and accessories, lighting and exposure. He has had a lifelong passion for and career in photography and has traveled the world.  Mid-way through the training session, participants experimented with photography exercises by capturing photos of birds and nature scenes along the nature trails.
The class was made possible by a grant from the National Environmental Education Foundation through funding provided by Toyota Motor Sales.