NOVEMBER 2014
WOODLANDS WILD WINE DINNER
Great food, great friends, life was kind of special at the Woodlands Wild Wine Dinner. Thank you to Chevron Oronite, Power Systems Specialists, the Louise H. Moffett Family Foundation for sponsoring the event. A special thank you to Tanner Sneed of Dakota Shy for sharing his story and the fruits of his efforts during the Patron Party to sample his fine wines. Thank you to Republic National Distributing and a very generous anonymous donor for the wonderful wines savored during the cocktail party and dinner. We are especially thankful for Carl & Katie Rosenblum, Chef Redhead, Racheal Apken, English Turn staff and the volunteers who made the evening flawless.
DELACROIX PRESERVE PLACED ON NATIONAL AREAS REGISTRY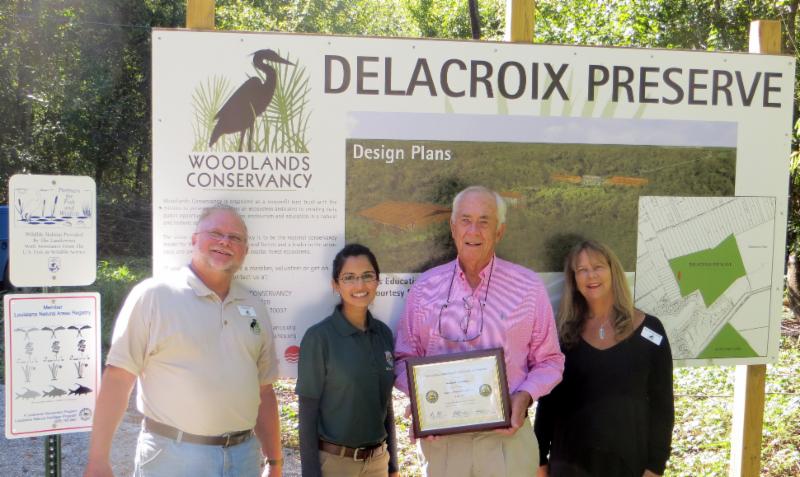 On Monday, November 10, 2014, Woodlands Conservancy announced the placement of Delacroix Preserve onto the Natural Areas Registry. Sairah Javed, a Biologist with Louisiana Department of Wildlife and Fisheries Natural Heritage Program came to Woodlands Conservancy's Delacroix Preserve, to present the organization with a plaque recognizing the dedication of the "Delacroix Preserve Natural Area". Dan Dreiling, Board President of Woodlands Conservancy, welcomed visitors to the special occasion at Delaxroix Preserve to "formally recognize Woodlands Conservancy's efforts to care for and enhance this unique forest that provides a rich habitat for wildlife and migratory birds and protects the community by serving as a natural sponge and wind buffer during storms."
OCTOBER 2014
AT&T MAKES CONTRIBUTION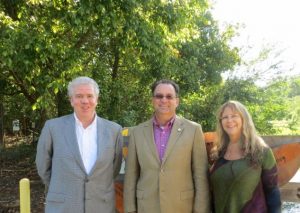 (Left to right) Leo Marsh, AT&T, State Representative Chris Leopold, Katie Brasted, Woodlands Conservancy
On Friday, October 31, AT&T announced a contribution to Woodlands Conservancy in Belle Chasse to assist in its efforts to preserve and develop an ecosystem dedicated to creating daily public opportunities for recreation, ecotourism and education in a natural and historic setting.
SEPTEMBER 2014
NEEF GRANT FUNDS EVENTS AT WOODLANDS TRAIL

Woodlands Conservancy received funding from the National Environmental  Education Foundation (NEEF) in September 2014 to hold special events at Woodlands Trail to help engage more individuals in activities at the public land site.  The funding made possible by Toyota Motor Sales provides the opportunity to schedule educational, recreational or volunteer activities.  Click on the Calendar of Activities for details about upcoming events.
OPEN HOUSE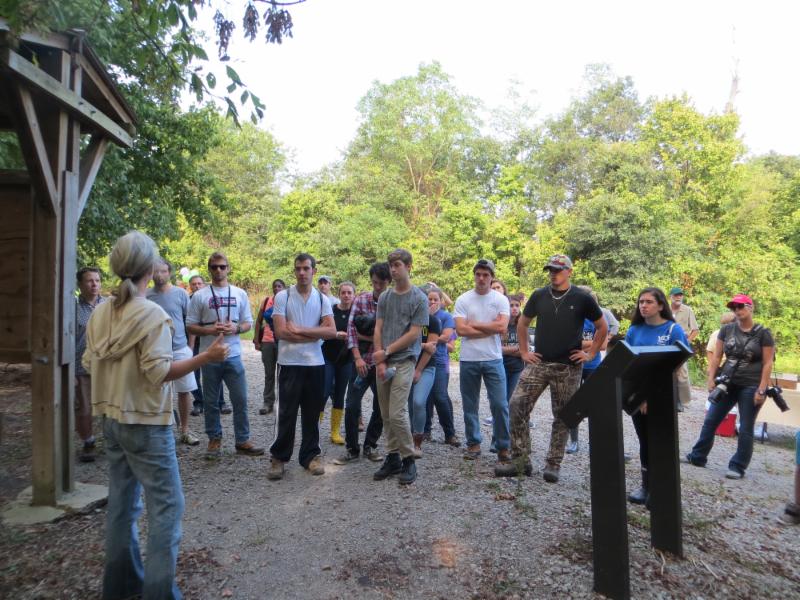 Susan Norris-Davis (left) begins an interpretive hike held at Woodlands Trail on National Public Lands Day.
Woodlands Conservancy hosted an Open House on Saturday, September 27 at Woodlands Trail in Belle Chasse to celebrate National Public Lands Day, a day set aside annually on the fourth Saturday of September to encourage visits to public lands to help improve the site, hike, explore, picnic or simply relax. The board and members of Woodlands Conservancy, Chevron employees, Tulane University students, local residents and visitors gathered at Woodlands Trail in Belle Chasse for a variety of activities. Plant specialists, Tyrone Forman and Susan Norris-Davis led a hike along the Bottomland Trail.  Matt Smith provided information on "Outdoor Skills & Etiquette".
MARCH 2014
SEEDS TO SAPLINGS
BROWN FOUNDATION FUNDS SERVICE LEARNING PROJECT
Woodlands Conservancy and Belle Chasse Primary School partnered to apply for funding through the Joe W. and Dorothy Dorsett Brown Foundation Service Learning Program. The effort resulted in Mrs. Mary Beth Newchurch's 4th grade class participating in a "Seeds to Saplings" Service Learning Project during the 2013-2014 School Year.
The class attended the Brown Foundation's kickoff celebration at the Pontchartrain Center to accept the award check with Woodlands Conservancy. The Seeds to Saplings program involved a series of seven lessons that incorporated benchmarks into the service learning activities. Students learned about their local watershed and actions they can take to have clean water and reduce pollution. Lessons also included going to Woodlands Trail where students learned to identify native trees and their seeds. Seeds were gathered, planted and cared for throughout the school year. Students planted trees on February 28 following a picnic at the Daybrook Pavilion.
The students stopped at the entrance for a picture following their hike to Woodlands Trail to plant hundreds of seedlings including ones they had grown from seed as part of their Service Learning partnership with Woodlands Conservancy.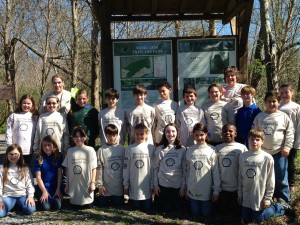 Above, BCP 4th grade students pose for a photo at Woodlands Trail wearing shirts provided by a grant from Shell. The grant funded volunteer efforts and Ecosystem Restoration during the past year.
DISTANCE LEARNING EFFORT GROWS
CSUCI & OSU ARE JOINED BY TULANE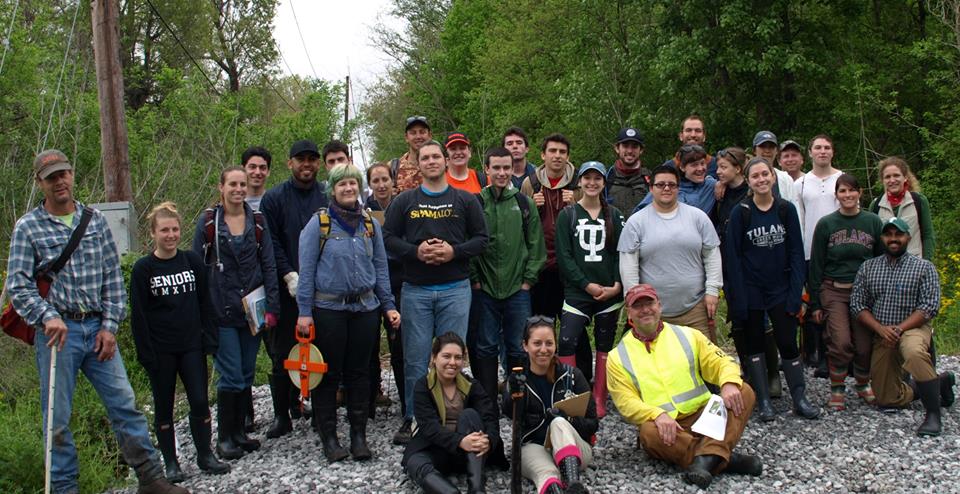 Dr. Sean Anderson, California State University Channel Islands (CSUCI) has been bringing his students to work with Woodlands Conservancy for the past eight years. The partnership grew when Dr. John Lambinos, Oregon State University (OSU) joined the effort in 2009. Spring 2014 experienced another expansion of the partnership when Professor Jayur Mehta, Tulane University brought his students to join the effort. The expanded partnership kicked off on March 22 when the group conducted vegetation surveys at the Delacroix Preserve.
GRANT FROM ENTERGY FUNDS SITE IMPROVEMENTS & OUTREACH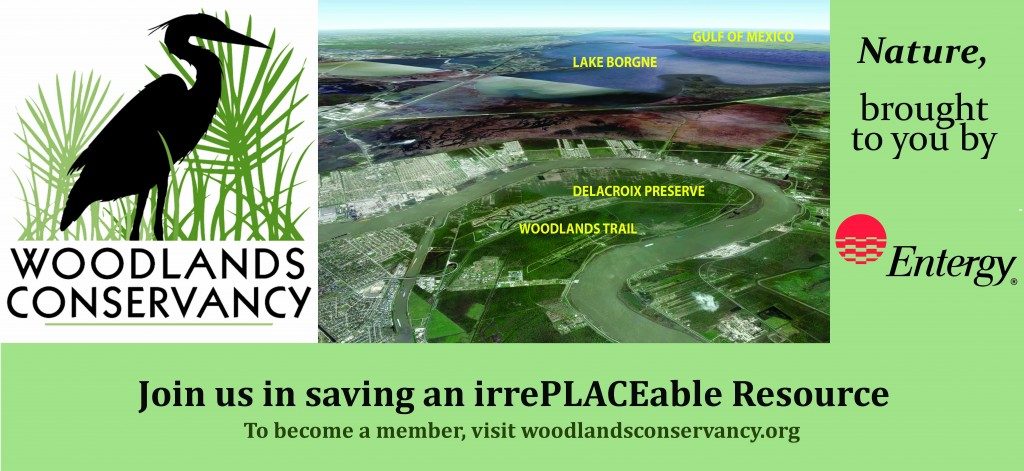 A generous grant of $33,000 from Entergy New Orleans was received by Woodlands Conservancy to conduct community outreach and make site improvements to the Delacroix Preserve. CBS billboards throughout the New Orleans area have been used to raise the visibility of Woodlands Conservancy and engage volunteers. Woodlands has received phone call inquiries, new Facebook friends, newsletter sign-ups and volunteers for the newly launched Bird Observatory as a result of the marketing effort.
Funds for site improvements at Delacroix Preserve allowed Woodlands to begin work on establishing the major entrance to the site as well as address easing access to areas where the Bird Observatory is located within the property. Look for the new entrance sign, designed by Mossop & Michaels Architecture firm, to be going up soon at Delacroix Preserve!
JANUARY 2014
BOARD MEMBERS ANNOUNCED FOR 2014-2015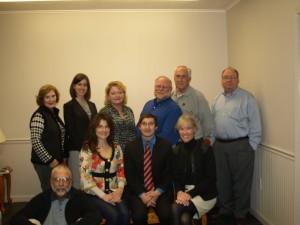 Woodlands Conservancy Board Members for 2014-2015 were set at the January Board Meeting.  Board members are:  Dan Dreiling, President, Katie Rosenblum, Vice president, Rebecca Altobelli, Secretary, Gail Serauskas, Treasurer, Andrew Brooks, Brian Butz, Etheldreda Culpepper, Bev Dreiling, Lee Dupont, Bob Lemon, Joanna Leopold, Heidi Poché and Flynn Zaiger.
DECEMBER 2013
BIRD OBSERVATORY TAKES FLIGHT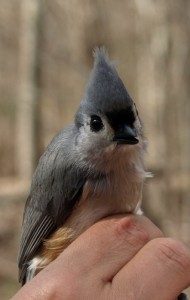 In December, 2013, with start-up funding from the Barataria-Terrebonne National Estuary Program (BTNEP), the Woodlands Conservancy Bird Observatory was launched.  Working in collaboration with Baton Rouge Audubon Society, Woodlands Conservancy joined the effort of the Louisiana Bird Observatory to better the understanding of birds and their populations to conserve and improve habitats on which birds and human communities depend.  In addition to contributing to state-wide analysis of bird behavior in Louisiana, data collected during monthly banding sessions at both Woodlands Trail and Delacroix Preserve will help evaluate differences in bird behavior in healthy forested wetlands compared to those in  restored areas and those in unrestored areas.  Thus far, the Woodlands Conservancy Bird Observatory has banded 187 birds representing 21 species.
OCTOBER 2013
BENEFIT HELD AT DOMINIQUE'S
Chef Dominique, known for his affinity for finding unique ways to use local food products, joined with Woodlands Conservancy's efforts to preserve and restore forested wetlands by offering Dominique's on Magazine as the venue for a Wild Dinner fund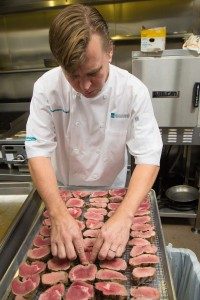 raising event for the nonprofit, regional land trust.  The dinner was paired with prosecco and wines during the evening provided by Trinchero Family Estates.  Sponsors for the event included AT&T, Phillips 66, Andrew & Lucie Whitley, Crescent Bank & Trust and Power System Specialists.
The event began with Dominique's Bar Director, Ian Julian serving up a signature cocktail of Elderflower, Hibiscus and Champagne.  Elderberry trees are currently flowering and are characteristic of the understory in the lands managed by Woodlands Conservancy that were severely impacted by Hurricane Katrina.  The currently abundant Elderberry trees are an indicator of a forest in recovery.
In attendance were Councilmember Kristin Gisleson Palmer and State Representative Chris Leopold,  who both spoke of their support for the Woodlands Conservancy organization.  Leopold spoke of the value of the project for Plaquemines Parish and the region, emphasizing the advantages of parishes working together.  Palmer emphasized the value of conserving low-lying forested wetlands as one way to mitigate the impact of future storms.
Over $15,000 was raised from the wild game dinner and silent auction to benefit Woodlands Conservancy work that includes management of over 800 acres of forested wetlands in the Greater New Orleans area that provide hurricane protection, over ten miles of public trails and preserve habitat for wildlife that make Louisiana the Sportsman's Paradise.
SEPTEMBER 2013
BROWN FOUNDATION FUNDS SERVICE LEARNING PROJECT AT BELLE CHASSE PRIMARY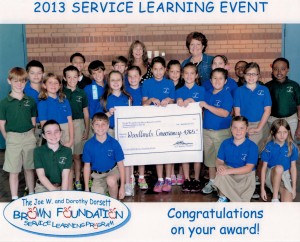 The class attended the Brown Foundation's kickoff celebration at the Pontchartrain Center to accept the award check with Woodlands Conservancy.   The Seeds to Saplings program involved a series of seven lessons that incorporated benchmarks into the service learning activities.  Students learned about their local watershed and actions they can take to have clean water and reduce pollution.  Lessons also included going to Woodlands Trail where students learned to identify native trees and their seeds.  Seeds were gathered, planted and cared for throughout the school year.  Students planted trees on February 28 following a picnic at the Daybrook Pavilion.
JUNE 2013
TULANE INTERNS – PERFORM ABOVE AND BEYOND EXPECTATIONS
In Spring of 2012, Woodlands Conservancy entered into an agreement with Administrators of the Tulane Educational Fund through its Center for Public Service to begin providing internships to Tulane students.  This was one of the best benchmark decisions in Woodlands Conservancy's efforts to increase our capacity while also expanding our service learning opportunities.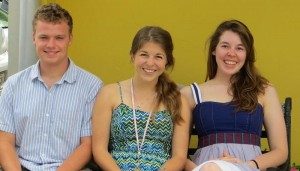 Melanie Morgan, a Senior in Public Health and Urban Planning created and ran a Hike for Health program on Saturday mornings and created environmental educational programs for K-12.  She continued volunteering through a second semester and up until she entered the Master's Program at UNC in Fall 2013.  Lauren Hobson, a Senior in English and Political Science spent the Fall 2012 semester creating a new website look for Woodlands Conservancy and updating and managing our membership program.  Dan Lenger, a Senior in Ecology and Evolutionary Biology, completed inventories of plant and animals that led to the creation of a Nature Guide specific to the Woodlands sites.   We are deeply grateful for the contributions of our Tulane Interns and look forward to experiencing the skills and creativity being brought to Woodlands by our future Tulane interns.
FEBRUARY 2013
BOB THOMAS TELLS SOME WILD STORIES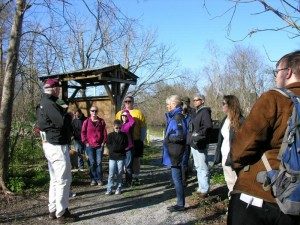 Dr. Bob Thomas, Loyola's Director of Environmental Communications, led a group of eager-to-learn, early morning risers, on Saturday, February 06. The group made several stops along the half mile hike to the LRT bridge as Dr. Bob shared his wealth of information about Louisiana's natural history.  Did you know that the Honey Locust's thorns were used by Civil War Soldiers to keep their uniforms together when pins were scarce!
Dr. Bob's interpretive hike and the upcoming Ceramic event and Bird Watching hike were made possible by a grant from the National Environmental Education Foundation through funds by Toyota Motor Sales.
SHELL FUNDS ECOSYSTEM RESTORATION AT WOODLANDS SITE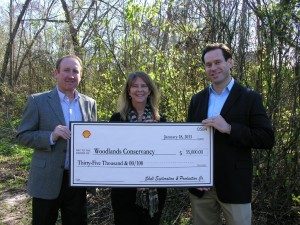 Ed Landgraf (far left) and Josh Etkind (far right) of Shell Exploration and Production, present a check for $35,000 in funds to Woodlands Conservancy's Executive Director, Katie Brasted, for Ecosystem Restoration and Volunteer Programs.
Woodlands Conservancy announced today $35,000 from Shell Exploration and Production for Ecosystem Restoration and Volunteer Programs.  The funds will be used to remove non-native, invasive vegetation from a portion of Woodlands Trail and Park Bird Sanctuary in Plaquemines Parish.  The funds for the Volunteer program will result in sponsored hands-on activities such as tree planting, hand-pulling invasive seedlings and other improvement projects at the Woodlands site.
The presentation made by Ed Landgraf and Josh Etkind of Shell followed Woodlands Conservancy's recent announcement of the acquisition of 190 acres in Orleans Parish in the same general area as the managed property in Plaquemines Parish.  Landgraf said, "Investing in projects such as this is consistent with Shell's objectives around Sustainable Development, which simply means enhancing and protecting the environment and communities in which we operate is just the right thing to do.  I am proud to work for a company like Shell who supports initiatives like this".  After viewing a map of the effort to connect low-lying, forested wetlands for habitat for wildlife and protection of the community, Josh Etkind remarked, "This is such a fantastic resource for all the kids and families in the greater metro area. Having the opportunity to get out on such a well-managed, lovely nature trail so close to the city could have a real positive impact on people's lives."  FULL PRESS RELEASE
JANUARY 2013
WOODLANDS CONSERVANCY PROTECTS 190 ACRES
Woodlands Conservancy protects vital migratory lands in Orleans Parish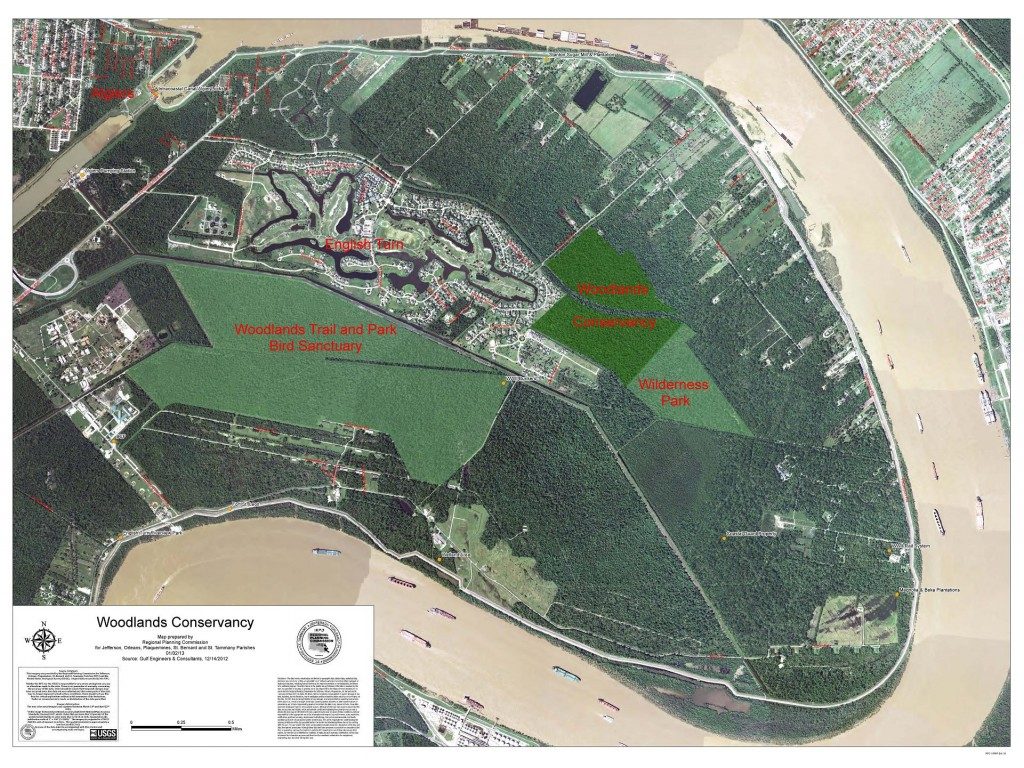 Woodlands Conservancy announced today the purchase of 190 acres of important bottomland hardwood wetlands in Orleans Parish. This acquisition completes a multi-year effort initiated by the Conservancy, and supported by The Conservation Fund, in southeastern Louisiana.
The acquisition of the 190 acres will expand the habitat for over 100 species of migratory birds and provide additional hiking, wildlife viewing, and outdoor education opportunities to local citizens.
Due to the continued loss of our coastline and increased rate of relative sea level rise, USFWS estimates that this Woodlands area (now just 6 miles from open waters connected to the Gulf of Mexico) will be one of the largest forested land masses between open water and the city of New Orleans within the next fifty to one hundred years.
"There's no place like Southeast Louisiana, and we're thrilled to have assisted Woodlands Conservancy with the protection of these important lands for everyone to enjoy," said Ray Herndon, Lower Mississippi Director for The Conservation Fund. "Even as we celebrate today's success, we're rolling up our sleeves to do more together, for all of us and for generations to come."
"This is a monumental day for our city and the entire region," stated Councilmember Kristin Gisleson Palmer who represents the district in which the land is located.  "With the acquisition of this land by Woodlands Conservancy, this crucial wetland will remain intact to protect Orleans and Plaquemines parishes for generations to come. The environmental impacts of this cannot be overstated. But this is not just smart land use – the wetlands will also be a nature preserve for all of us to enjoy."
New Orleans Mayor Mitch Landrieu said, "It is vitally important that we work to protect and preserve this wetland area.  It is also another example of Woodlands Conservancy creating a legacy for future generations who will come to this wildlife area for recreation and education."
Funding from the Coypu Foundation, Chevron, ConocoPhillips, Martha Gunther, Jackie Leonard, Curtis Sorrells, Orleans Audubon Society, the New Orleans Chapter of the Sierra Club, the Crescent Bird Club and the Louisiana Ornithological Society was used to evaluate and appraise the property over the past couple of years.  The land acquisition by Woodlands Conservancy was made possible through the generous donation from a local businessman and his wife who value the mission of Woodlands Conservancy to preserve contiguous low-lying areas for storm protection and provide educational and recreational access to the public in their community.