December 2010
Daybrook Pavilion to soon become a reality!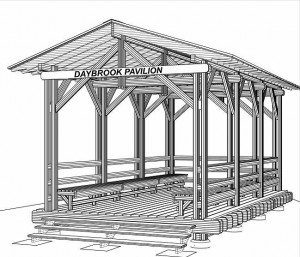 Thanks to contributions from Daybrook Fisheries and American Electric Power, the entrance pavilion at Woodlands Trail will soon be a reality.  The Daybrook Pavilion will be a 12′ x 24′ shelter that can be used for educational gatherings for school and interest groups as well as a site for a leisurely lunch while watching activities along the Plantar's Canal.  A generous contribution from Daybrook Fisheries of $10,000 will be used to construct the pavilion with the very skilled labor provided by Seabees currently stationed at the Naval Joint Reserve Base in Belle Chasse.  Two sides of the structure will have benches constructed with a $1000 grant  provided by American Electric Power.  Visit soon to see the progress.
July 2010
LSU School of Architecture, Office of Community Design and Development Release Design Models
Professor Frank Bosworth, LSU School of Architecture, Office of Community Design and Development will present a brief Power point presentation on the Proposed Interpretive Center to be located at Woodlands Trail and Park and a design for a potential Riverfront Pavilion.  Physical models of the two designs will be set-up in the Plaquemines Parish Council chambers for public viewing at the Council meeting on July 8, 2010 at 1 p.m.  The Interpretive Center designed to be built on constructed wetlands will be a state-of-the-art sustainable design with little or no carbon footprint.  The building will contain educational materials and exhibits of the environmental and cultural history of the area as well as the physical structure itself being a tool to instruct others of similar elements they can incorporate into their own homes to reduce their carbon footprint.  The council meetings are held at 450 F. Edward Hebert Blvd. in Belle Chasse.  For future information about the designs contact 504.433.4000.
May 2010
Woodlands holds 3rd Mississippi Riverboat History Cruise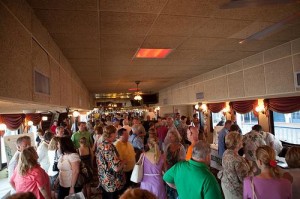 Despite the somewhat inclement weather on the day of Woodlands Trail and Park's Riverboat Cruise, over one hundred friends and supporters boarded the Creole Queen for the annual fund raising event including Plaquemines Parish President Billy Nungesser.  Guests at the event were given the opportunity for the first viewing of the models of the Interpretive Center and River Pavilion completed by LSU Office of Community Design and Development.  President Nungesser praised the work and expressed his support of public-private partnerships and offered ideas for funding the quality of life amenities for the area.  The models are scheduled for presentation at the Plaquemines Parish Council meeting on July 8.
The cruise on the Mighty Mississippi included live music by Steamboat Willie and some unique history story telling by Andrew Barron, Barataria-Terrebonne National Estuary Program.  Mr. Barron explained the significance of the land and efforts of Woodlands and talked of the early environmental history of how the area was formed and how our ancestors discovered medicinal values of plants in the forest.  Between dining on local cuisine and sipping "River ritas", those in attendance made the Silent Auction a major success.
The annual fund raising event was made possible by Chevron, Jon Khachaturian, Entergy, Ochsner Medical Center – West Bank, John W. Stone Oil Distributor, Wal-Mart Foundation and Sam's Club.  McMoRan Exploration and WWNO 89.9 helped to spread the word of the fund raising event by contributing printing and air time.   Click here to see more photos.
March 2010
ConocoPhillips Employees Plant the Last of 4360 Seedlings!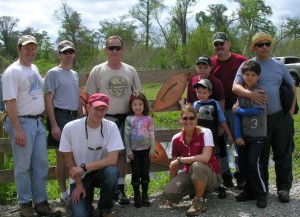 On March 27, ConocoPhillips employees came to the rescue to plant the last of 4360 seedlings and trees at Woodlands Trail and Park.   The employees and their grandchildren helped plant seedlings along planting paths in the front 20-acre section of Woodlands Trail along the Upland Trail.  Funding provided by ConocoPhillips  helped Woodlands Trail and Park partner with Louisiana State University, School of Architecture, Office of Community Design and Development to develop interpretive information that will educate others of the restoration efforts.  LSU will be designing panels that will be placed in the kiosk along the Upland Trail.
LSU's Environmental Conservation Organization (ECO) Help With Restoration Efforts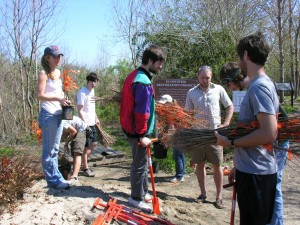 Lizzy Hingle, a sophomore at Louisiana State University, in the Department of Renewable Resources and Vice President of the Environmental Conservation Organization organized a camp-out and tree planting at Woodlands Trail and Park in Belle Chasse.  After spending her holiday free-time volunteering at Woodlands Trail and Park to prepare for the spring Ecosystem Restoration project that involved planting over 4300 trees and seedlings, Lizzy decided to get the ECO group involved in helping with the tree planting. 
The group of fifteen club members camped out at Woodlands Trail and Park and then spent the next day planting over 1000 trees. 
Goucher College Students Spend Spring Break Restoring Habitat at Woodlands Trail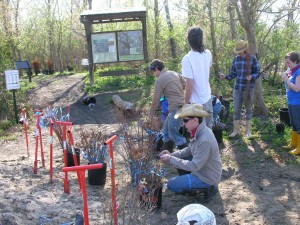 As planting dibbles stand at attention in the sand, ten volunteers from  Goucher College in Maryland, tie wood fiber tapes on cypress and water oak seedlings in preparation for planting at Woodlands Trail and Park.  According to Kaitlyn Orr, her group has come to the Greater New Orleans area for the past four years during spring break to do restoration work in the community.
The planting at Woodlands Trail and Park was organized by Bayou Rebirth, a nonprofit organization that engages volunteers in hands-on wetlands restoration and stewardship projects.  Scott Eustis , a graduate student working with Bayou Rebirth, supervised the students planting 745 seedlings.
January 2010
Reforesting Begins! Scouts Work for Conservation Badge
On Saturday, January 23, Belle Chasse Cub Scout Pack 301, Webelos Patrol came to Woodlands Trail and Park to do conservation work toward earning a badge.  Ken Dugas, Scout Leader, Anna Lincoln, Committee Chair and parents, Michelle Hewitt, Frank Ranatza and Jason Guiliuzo accompanied the scouts and provided supervision during the project.  The scouts planted over 130 native Louisiana trees along the Upland Trail just outside the scout camping area.  Pictured at right, Trent Palmisano holds a Planting Dibble that was used to make a hole for a seedling during the Sub Scout Pack 301 Volunteer Day at Woodlands Trail and Park.  Hailey Weatherford ties a biodegradable tag onto the native tree so that it is easy to spot where trees have been planted and where more are needed. 
October 2009
LSU and Woodlands Trail and Park Unveil Preliminary Conceptual Designs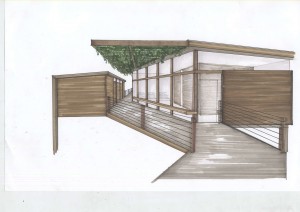 The design for the Woodlands Trail Interpretive Center includes state-of-the-art green building techniques and is designed to be a teaching tool in both its design and contents.  The interpretive center is designed to tell the cultural and natural history of the geographical area including such topics as the early plantation era, flood of 1927, value of native habitat and impacts from hurricane activity.  The River Pavilion design includes interpretive panels that acknowledge the contribution of the Army Corp of Engineers, Coast Guard, River Pilots and others who manage activities along the "Mighty Mississippi" as well as portions of the Mississippi River Trail. The oral and written comments provided by participants will guide the next design phase that will lead to physical models with detailed costs.
Funding for the second phase of planning and an interpretive program for the Upland Trail is being funded by ConocoPhillips who joined Woodlands Trail and Park in creating a legacy for future generations by providing advice and financial support for the past several years.
September 2009
Greater New Orleans Foundation Funds Invasive Species Assessment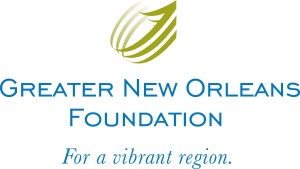 Recent funding from the Greater New Orleans Foundation – Plaquemines Community Foundation through the Rebuild Plaquemines Fund,  allowed a detailed pre-treatment assessment of invasive species in a 20-acre pilot treatment area at Woodlands Trail and Park.  Funding received from GNOF allowed Dr. Sean Anderson, California State University Channel Islands and John Lambrinos, Oregon State University to determine stem density and frequency of Chinese Tallow, Chinaberry and Chinese Privet.  This information will be used to determine the effectiveness of treatment to eradicate these invasive species.  Funding for treatment has been provided by the Change Happens Foundation and the Barataria-Terrebonne National Estuary Program.  Thanks to the Louisiana Department of Wildlife and Fisheries, birding surveys of breeders and migratory birds will be conducted to assess the impact of treatment on improvements in bird habitat. 
With funding provided by ConocoPhillips, educational materials on the restoration activities are being developed by Louisiana State University, School of Architecture students to be incorporated into Kiosks within the forest.  Work is also underway to produce a brochure and documentary to cover the value of low-lying forested areas, the impact of hurricanes on coastal forests, invasive species identification and removal techniques.
May 2009
 LSU School of Architecture Begins Design Work for WT&P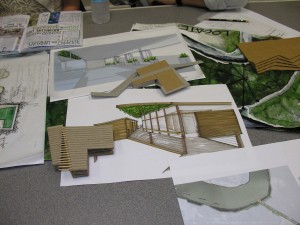 A new partnership for Woodlands Trail and Park with the LSU School of Architecture, OCDD has led to Marsha R.  Cuddeback, AIA, LEED AP, and her students taking on the task of providing assistance for preparing conceptual design illustration for the proposed Woodlands Trail and Park Interpretive Center and River Pavilion.   Under the direction of Cuddeback and consultation from Frank Bosworth, PhD., Marcelle Boudreaux, Project Manager, Lizzy Williams, Project Designer, will work with Adam Duplantier and Jonathan LeJune , Research Assistants,  to develop a pictorial , marketable vision for Woodlands Trail and Park.  The planning was funded by a grant from the Plaquemines Community Foundation.  Preliminary design work shows construction blending with nature and includes state-of-the-art green building techniques.
Woodlands Trail and Park's History Cruise: A Spash on the Mighty Mississippi!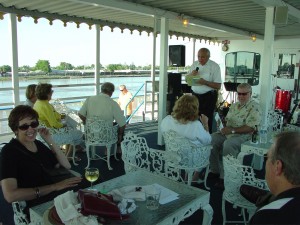 Great music by The Stargeezers, a warm, breezy evening, a wide range of coveted silent auction items and the traditional "River Ritas" contributed to the success of Woodlands Trail and Park's Mississippi Riverboat History Cruise fundraiser.  The major sponsors for this year's event were Chevron Oronite, AEP River Operations, Associate Branch, Pilots, Wal-Mart Foundation and Winn-Dixie.
Buddy Stall, local historian, added to the magic of the event with his unique stories of the local region. 
 Near the close of the evening, local guests from Louisiana, as far West as California and as far east as Washington, DC joined together for a "Toast to the Coast" sponsored by Trinchero Family Estates.  A cheer echoed along the river at the end of the following toast given by Katie Brasted: "as our 'safe season' ends and we enter hurricane season, our hope is that the powers that be have the strength to look beyond themselves and expeditiously do the right thing to save our coast and coastal forest."
April 2009
Arbor Day Learning Experience and Sign Unveiling!
For over 100 years, environmental stewards gather on Arbor Day to plant trees for the same reasons that J. Sterling Morton recognized in 1854-windbreaks to keep soil in place, shade and food for wildlife.  The day was celebrated in Plaquemines Parish with Alan Vaughn, LSU Agriculture Center demonstrating correct planting techniques to Shannon Wigley and her students from Our Lady of Perpetual Help at Woodlands Trail.  Nikki Lopez, Heather Giordano, Marisela Varela, Morgan Ancar, Elisa Kravet, Josie Bridges and Deanna Cheathem planted Mulberry trees along the Upland Trail at Woodlands Trail and Park. 
Following tree planting, students from OLPH joined with Woodlands Trail and Park and Janice Acosta, Plaquemines Parish Government, Mike Richard, Chevron Oronite and Steve Barrios, American Electric Power to unveil the new Woodlands Trail and Park entrance sign and landscaping.  The improvements were funded by contributions from Chevron Oronite, Plaquemines Parish Government and American Electric Power.
AEP River Operations Joins Woodlands Trail and Park in Creating a Legacy for Future Generations!
The generous donation of $10,000 received from American Electric Power River Operations helps

Woodlands Trail and Park bridge gaps in funding needed for special projects.  The Board of Directors is extremely grateful to our friends at AEP River Operations for sharing the vision of Woodlands Trail and Park in establishing and expanding greenways and trails in one of Southeastern Louisiana's last stands of bottomland hardwoods.
January 2009
Volunteer Work Day and ConocoPhillips Bridge Dedication
All watch with anticipation as Chris Chandler stands with his children, Jack and Jill, as he prepares to cut the ribbon signifying the dedication of the ConocoPhillips Bridge in Woodlands Trail and Park.  ConocoPhillips has been one of the long-standing corporate friends to Woodlands Trail and Park and provided funds for the naming opportunity to help the organization continue to develop and maintain the trail and park.
Plaquemines Parish President Billy Nungesser  (right) talks with Woodlands Trail and Park board member Lee Dupont, volunteer Bill Brasted and ConocoPhillips Operatons Superintendent Sandy Womack during the Volunteer Work Day at Woodlands Trail and Park.  Volunteers spent Saturday, January 17 installing directional signage and posts throughout the developing trail system.   The entrance to the park is at 449 F. Edward Hebert Blvd. in Belle Chasse, directly across the street from the temporary courthouse and is free and open to the public from dawn to dusk.  The group took a break to watch the ConocoPhillips Bridge Dedication and talk with Plaquemines Parish President Billy Nungesser about the park.
America's Wetlands Conservation Corp Spends a Day at the Park
On Wednesday, January 7, Rosina Philippe, America's Wetland Conservation Corp member, hosted a volunteer work day at Woodlands Trail and Park for volunteers to come out to the park and participate in "preserving this living legacy".   The loss of this canopy has allowed for the rapid growth of briars, scrub bush and invasive vegetation.  In an effort to preserve and restore this green space for nature and nature lovers alike, Rosina Philippe (AWCC Member) and others hosted a day in the park to clear debris, brush and briars along the front trail and scout camping area.
Thanks to Wayne Leonard, the trees were delivered to the Woodlands Trail and Park just in time for volunteers to plant along the perimeter of the scout camping area.